He welcomed me with a gleeful smile. Most salonwala bhaiyas I have known are never happy to see another customer. At least in Calcutta, they never are. Bored with work, they just want to sit idle, pick at their noses and listen to Himessssh songs on Radio Mirchi. But this chap was different.
Me: 'Baal kaat do yaar'
Dude: (running his fingers through my hair) 'Sir, shampoo kar doon? Aapke baal bahut dry hain'
Me: 'Nahi yaar. Main ghar jakar shampoo kar loonga. Tum baal kaat do - aur chote mat kaatna' I warned him.
Dude: 'Normal cut ya style mein katoon?'
Me: 'Normal. Baal kahan hain style karwane ke liye. Duh'
Dude: (again tousling up my hair) - 'aap spa kyun nahi karwate. Baal ekdum mast ho jayenge'
Me: 'Nahi yaar. Tum zaldi baal kaat do'
Disappointed, he got to his work. And I started dozing off. Then he jerked me awake.
Dude: 'Aapke baal girte hain?'
Me: (irritated) 'Bahut'
Dude: (perhaps sensing the bitterness in my voice) 'Sab dandruff ki wajah se hai. Aap spa karwa lo'
Me: 'Arey paise nahi hai bhai. Karwana hoga to bolunga main'
But he was just too enthu about his job. After the haircut, he offered to do a facial with some 'special gora banane wali' cream. I gave him a flat 'no'.
Dude: 'Sir aapke sare dark marks chale jayenge. Girlfriend khush ho jayegi.'
I was amused. But I didn't give in. Paid him Rs 60 for his shitty haircut (in Calcutta I would have paid only Rs 25!) and came out of the salon.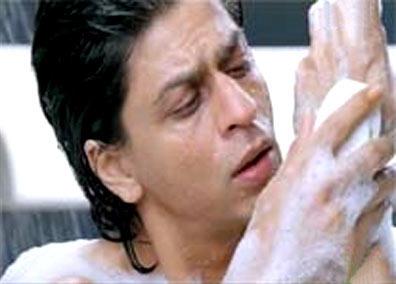 And I don't actually blame him for peddling these products to me. The modern day metrosexual man goes to the spa, gets facial done, gets pedicure, manicure and what not cured. He is increasingly trespassing on what used to be female-only territory in the bygone days. Companies are launching beauty products targeted at men - to make men fairer, softer and possibly, more girly. Kudos to Shahrukh Khan for starting this madness - he told the whole world that his beauty secret was actually a Lux soap.
But some of this is also getting out of control. If my 'male' superboss can announce that he is addicted to pedicure & manicure and start taking tips on the same from a 'female' colleague of mine, I know that the world is spiralling out of its orbit.
It's not that I don't take care of myself at all. I am very concerned about my falling hair and I get repeated nightmares that I have gone bald. And just like I would do if you bring a cockroach all of a sudden in front of me, I flinch on seeing an ujda chaman. So I have started getting head massage where I make the salonwala bhaiya apply smelly nariyal oil on my hair whilst he keeps pleading that I opt for its super-costlier version hair-spa instead.
Maybe this would stop soon. Or, maybe the day is not too far away, when men would be 'beautiful' too.